The Surprising Science Behind Greatness
---
The Art of
Performance
Jeroen De Flander, the #1 bestselling author of Strategy Execution heroes and The Execution Shortcut, unlocks the scientific secrets of world-class performers.
Most people believe the road to success is paved with passion, talent and some luck. That's a mistake, says Prof. De Flander. In The Art of Performance, he reveals the extraordinary science behind superior performance and most importantly, how anyone can achieve it.
In this provocative and persuasive new book, De Flander explores the mindset of the highly successful and uses six decades of scientific research to reveal 3 proven performance principles. Drawing on startling statistics and cutting-edge insights, he packages science into a fascinating, readable narrative packed with irresistible and practical takeaways to help readers be more successful in life and work.
Among The Art of Performance most valuable insights are:
How lifelong interest is triggered
Why purpose trumps passion and how to find it
How a chess master became a martial art champion
How 4 simple practice rules can triple your learning cycle
Surprising, inspirational and insightful! This book will change your mind forever.
Inspiring & thought provoking. The Art of Performance will set you on the path to be the best you can be.

---

Bert Stevens - Vice President North America Operations, Nike

Jeroen De Flander reveals how greatness can be grown and nurtured by anybody.

---

Denis Machuel - Global CEO Sodexo

One of the best business books I have read in years

---

Nick Taylor - Managing Director UKI Accenture

Engaging and provocative. This book will lead you to level of performance you never considered possible. A game changer!

---

Marshall Goldsmith - New York Times #1 bestselling author

The Art of Performance is a gem—evidence-based, insightful and full of practical advice.

---

Costas Markides - Professor of Strategy & Entrepreneurship, London Business School

Pole position for all your challenges. Jeroen shows you the way

---

Dixie Dansercoer - Polar Explorer, Record Holder, & Ultra Runner
The Surprising Science Behind Greatness
---
The Execution
Shortcut
Most business strategies get lost on the long road to success. Connect your strategy with Heads,Hearts & Hands to uncover The Execution Shortcut.
The strategy journey to success is long and dangerous. Most business strategies lose between 40 and 60 percent of their financial potential along the strategy execution highway. There is a path that will make the trip dramatically shorter. It exists in every organization, but mostly stays hidden. With the help of science, we'll uncover The Execution Shortcut.
There are three prerequisites:
The Head connection – people need to be aware of your business strategy;
The Heart connection – people need to care about your business strategy;
The Hands connection – people need the energy to push your business strategy forwards.
I read this book on a long haul flight to the US, altitude 38,000 feet… but what I learned was applicable the day after. Down to earth, feet on the ground." –

---

Rudi Nerinckx - Group Human Resources Director, Tessenderlo Group

"The Execution Shortcut gives brilliant tips on execution excellence." –

---

Atul Jain - Senior Vice President, Samsung Electronics

The Execution Shortcut provides a down-to-earth approach to help leaders achieve where many fail–deliver the strategic plan.

---

Jan Lång - CEO, Ahlstrom

Embrace heart, hands, and head and follow the execution path to the finish line.

---

Charles-Antoine Janssen - Board Member, UCB

In The Execution Shortcut, De Flander brilliantly illustrates why the path to success is a long and winding road, fraught with dangers and potential derailers. By taking his advice, we can accelerate execution and create lasting success in any enterprise–big or small.

---

Bart Sweerman - Managing Director, Enterprise & Public Sector EMEA, Cisco

In the real world, it doesn't matter how good looking you are or how smart you are. What matters is getting things accomplished and that's what The Execution Shortcut is all about.

---

Bill Saubert - Senior Vice President Mastercard Advisors

The Execution Shortcut offers a great roadmap to win in the new reality of business.

---

Jorge Inda Meza - Global Director of Strategic Innovation, AB InBev

Finally a book that provides quality advice and real examples for helping us get to strategic execution shortcuts. De Flander has done it again with The Execution Shortcut.

---

Phillip Shoemaker - Director Applications Technology, Apple

The Execution Shortcut gives a refreshing insight into how to make your strategy a success on the work floor. I can recommend this book to any leader.

---

Patrick Bodart - Principal Director, European Patent Office

The Execution Shortcut explains in an engaging way how Just Do It's don't come automatically. It only happens when the mind is triggered, the heart inspired, and willpower strengthened." – Bert Stevens, Vice President Europe Operations, Nike "Jeroen De Flander has done it again!

---

Paul Niven - Best-selling author Balanced Scorecard, Step-by-Step

The Execution Shortcut is a must read for every leader who wants to boost strategy commitment and guide others through the implementation maze.

---

Caroline Hillegeer - Senior Vice President Strategy, GDFSUEZ

De Flander's latest book charts a strategy for taking any idea off the drawing board and into real life. A great help to anyone looking to bring a good idea into the real world.

---

Kirkus Reviews -

The Execution Shortcut is a fantastic read! It is full of wonderful advice and practical examples and explains in a clear and engaging style how to get your ideas or strategies implemented. You will not only enjoy reading this book–you will act on it!

---

Costas Markides - Professor of Strategy & Entrepreneurship, London Business School

De Flander has added another chapter to the emerging science of strategy execution.

---

Prof. Robert Kaplan - Harvard Business School & Dr David Norton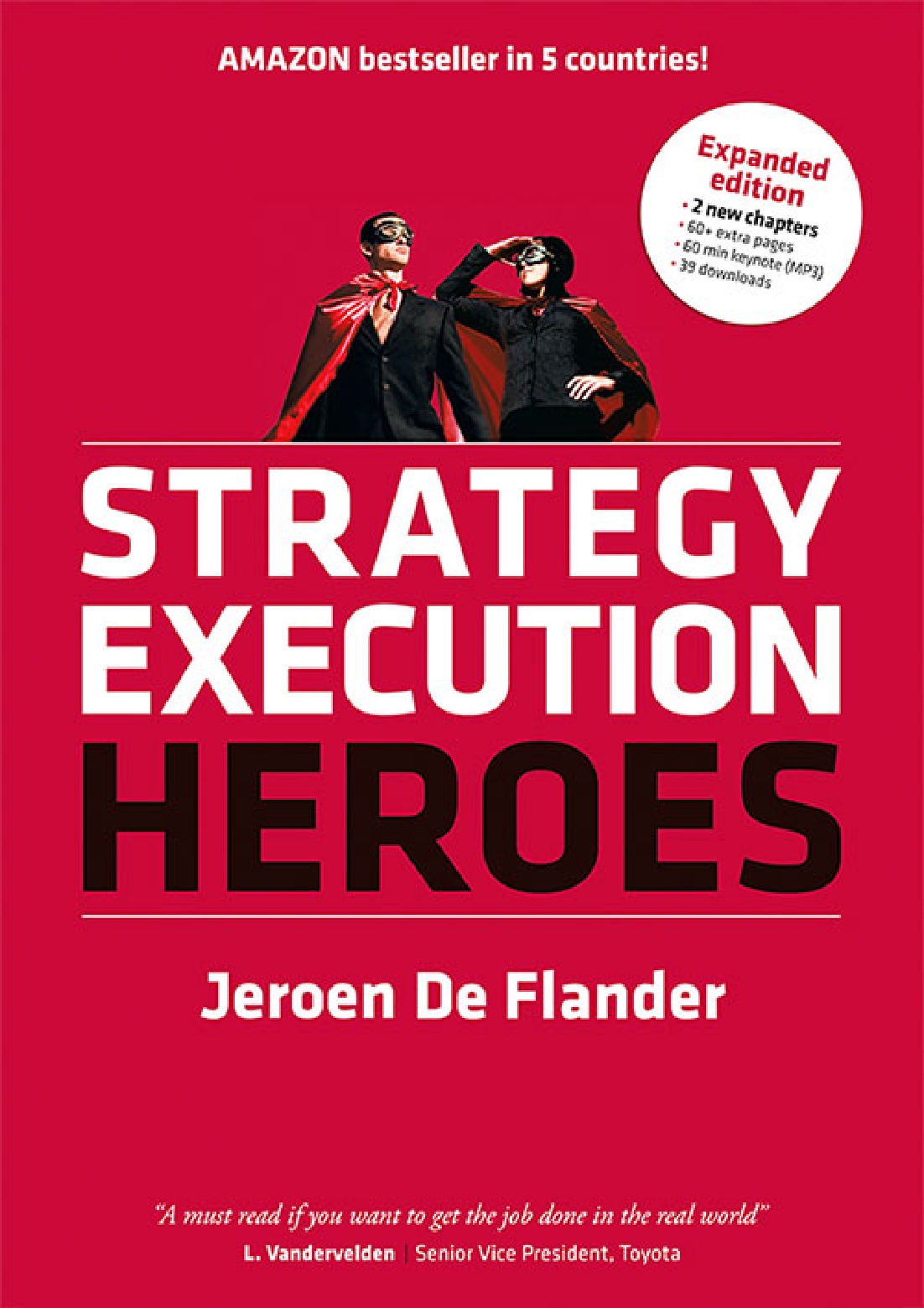 The Surprising Science Behind Greatness
---
Strategy Execution Heroes
With 300+ strategy execution tips, Strategy Execution Heroes will help you get the job done.
According to research published in the Harvard Business Review, "Companies realise only 40-to-60 percent of their strategies' potential value".
The rest is lost during execution. Strategy Execution Heroes turns the tide and goes for 100 percent Strategy Execution.
Strategy Execution Heroes will help you get the execution job done. But don't expect complex theories or fancy words. Strategy Execution Heroes gets right to the point with 300+ practical tips and tricks.
The new expanded edition of Jeroen De Flander's Strategy Execution Heroes includes
Two completely new chapters with new insights on the Balanced Scorecard and strategic thinking
12 new downloads including a framework to pick the best KPIs for your business
A 60-minute audio file from the Next Generation Strategy event where Jeroen De Flander shared the stage with
Michael Porter, Costas Markides and Roger Martin, three of the world's top 50 thinkers predicting strategic thinking in 2020.
So whether you are a future manager preparing for the challenge, a field manager or an experienced senior executive, get ready to boost your execution skills. Become a Strategy Execution hero and turn your great strategy into great performance.
Practical, specific and real-life advice

---

Jeffrey Stephen Kehoe - Regional head Asia - AXA

Great insights from well-known executives that I found immediately helpful for my organisation

---

Phillip Shoemaker - Director Applications Technology Apple

A refreshing different approach to strategy implementation. Well worth reading!

---

Michael Hofland - CFO L'Oreal

I highly recommend this book to strategist and business leaders striving for maximum impact

---

Bart Sweerman - Senior Director Cisco

Strategy Execution Heroes takes strategy to the manager level, providing practical everyday recipes to make sure that the 'big picture' does not remain a boardroom abstraction

---

Bruno Lanvin - Executive Director INSEAD

Strategy Execution Heroes is all about tips and tricks to get things done

---

Gérard Mestrallet - CEO GDFSUEZ